Valencia CF tickets and seating areas
The terms Category 1, 2 ,3 and so on are the most commonly used in the marketplace to describe types of seating available at Spanish matches, and the relative quality (and therefore price) of each area of a ground. However, do not expect to find these terms printed on tickets in Spain.
This diagram shows the categories of tickets available at Mestalla Stadium
We use the following Category definitions:
Category One Premium Tickets (Cat 1 Premium)
Your seats will be in the most central sections in the lower half of the stadium, side view.
Category One Tickets (Cat 1)
Your seats will be in the best areas in the lower half of the stadium, side view.
Category Two Tickets (Cat 2)
Upper Side view, or lower Goal End view. Your seats will either be side view (but higher up than Cat 1) or the best seats of Goal End View.
Category Three Tickets (Cat 3)
Upper End View (higher up than the Cat 2 seats) and also the area known as "Grada de la Mar" (the highest side view tickets).
4-star Valencia Hotels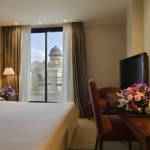 Get the best locations in Valencia centre – stay either near the stadium for convenience or in the old town to be near the sights and hostelries of central Valencia. Public transport is quick and easy. Near our hotels there are plenty of shops, bars, restaurants, nightclubs, and cultural venues.
As we know you are not coming alone, we guarantee enough space for big groups, you will get twins and trebles, so you don't have to share bathrooms with many other people. Each person gets an individual bed. If you like we will book you a breakfast, this way you don't have to worry about anything in the morning.
Central Valencia Hotels for groups
Room equipment like bedding, towels, Hairdryer, Safe.
Air conditioning/heating.
Wifi is available in the hotel.
24-hour reception, room service, luggage room.
Currency exchange facilities.
Gym and laundry service for an extra charge at the hotel.
Café, bar, restaurant.
Twins or trebles with individual beds.
If you book transfers from Valencia airport with us, we meet and greet you at the airport or the hotel and give you some tips for your stay.
We can offer you fantastic extra activities to add in while you are in Valencia: