Valencia: City of sun, sand, history and oranges
As you find yourself in the Valencia Port, you can get on a Valencia bus tour with regular pit stops, to see and learn about the main sites in Valencia, as our professional guide talks you through the history and culture of this beautiful city. This also gives you the chance to take pictures to enjoy later on and to make family and friends envious of your trip. You can choose between a set itinerary or include specific places you would like to see. You can hop off the bus at all the main sites in the city and enjoy what Valencia has to offer. Some main places which are must-sees are: The arts and science City (recently used as a filming location for Disney's new film: Tomorrowland), The Congress Palace, the Old City and many more.
Valencia Bus Tour
Travel through the wonderful city of Valencia
Get off the bus at all the main locations and site
Learn the history and culture
Easy and enjoyable way of discovering the city
Open top bus, allowing you to take some great pictures while enjoying the breeze
Easy access to the bus stop, situated at the Port of Valencia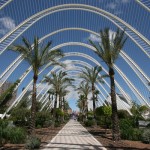 Valencia is a beautiful city to sight see at, and the bus is one of the best ways to do so. This activity allows you to take your time to take in all of the main sites Valencia has to offer, and at the same time learn about them thanks to the professional guide who will be accompanying you on the ride. The double decker bus will stop at set locations but can also do so at your request, to make sure everyone is satisfied. Drive through the old town streets and visit the cathedrals, Gothic churches, football stadiums, monuments and more. The average amount of stops is 15, giving you ample time to learn about them. The total duration of the excursion is around 1h30min and the bus leaves each stop every 20 to 30 minutes.
You can make this little excursion that much more special by upgrading to the Valencia Bus Tour ending the trip at the very famous Oceanographic at the Valencia Landmark Arts and Sciences City. This majestic aquarium has over 500 different species from seas and oceans all over the world. And what better way to end this Valencia Bus tour than in the underwater restaurant found in the Oceanographic. Get in touch with us if you require any additional information or just would like to know availability for this unforgettable activity in Valencia!