I awoke with the Mediterranean sun peeking through the curtains. There's only 2 days in the weekend so we've prepared a day packed-full of events to make the most of it. The conference was a success and now the team's ready for a few activities to take our minds off things and recharge before flying back Sunday and heading to work on Monday. We're determined to make the 'team building' portion of the trip is actually that! We've decided to push the boat out for this one…so after a quick breakfast it's time for…a catamaran cruise! The coach is waiting for in front of the hotel, just as arranged. We received confirmation of that when the driver arrived. Everybody ready? It's time to roll down in style to the world famous port of Barcelona where a luxury catamaran awaits! The weather is grand and the sky is the bluest of blues as the yachts bob cheerily in the water. Is this big one ours? Oh, this is going to be lovely. A welcome glass of cava as I board? Don't mind if I do! Cheers to a great start to the day. It's already turning out better than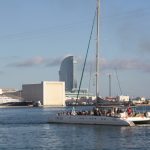 I expected. The catamaran departs into the Med and I really let go of my deadlines, reports and strategic plans and relax for a while. It's pretty hard not to love being out on the sea, with the sails fluttering, the sun shining and all of our team basking with frequently refilled glasses. Actually I've never been on a yacht like this…the catamaran is spacious and beautiful. Dare I say it, there's even a few moments of quiet reflection as the sunshine twinkles on the water.
All too soon the little sea jaunt is over and we return back to port. There's another coach waiting for us. Someone's waiting for us…a guide? We know it isn't quite lunchtime yet because…there's the little matter of cooking it first. We've arranged a special cooking class that's going to introduce us to the secrets of Catalan cooking and then feed us to the gills! Speaking of gills, the guide takes us to the famed Boqueria Market! It's gorgeous and bursting with fresh fish, ripe fruits and veg like I've never seen before and loads of little delicacies (anchovies and cheese stuffed olives anyone?). We meet Alejandro, our Chef and instructor, and we are led throug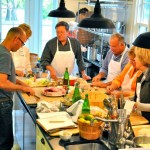 h the market where we pick our ingredients for our three-course feast. It is a photographers delight. The colours look brighter than normal as our Chef talks about the various produce and how it is going to be used in the meal. After loading up we walk to the nearby Cooking School and don our aprons in the modern yet inviting instructional kitchen. We're making gazpacho soup, a few tasty tapas and the world famous paella, this time in mariscos style. Calamaris anyone? I never thought gutting squid could be such a bonding experience, but I'll always remember having a laugh with John from accounting over squid-bits. Quicker than I thought possible, the meal is coming together. There is some talk about wine and the perfect match, and I must admit a glass or two may have been drunk by us. It's all part of the learning experience, isn't it? By 2 pm (Spanish lunchtime) it's time for a full sit-down lunch at the adjacent dining area. I'm surprised how much I've been enjoying this whole 'cooking with colleagues' thing …It's been funny and I've learned much more than I expected. The dishes are served with great gusto and we tuck in. Another victory for our team, this time accompanied by a nice red..a rioja. I think to myself I'd like to buy one of those giant paella pans so I can cook it when I get home.
Afterwards, flushed with success we say our goodbyes
to Alejandro and the cooking class. Again, there's a coach waiting for us. We've got a bit of a walking tour of the Gotic Quarter organised by our guide to help us digest. This barrio is glorious, like being transported back in time. Our guide leads us through narrow alleys, into sumptuous squares, past palaces and hidden churches and even to a little ancient bodega tucked away somewhere for some tapas…incredible. I feel a sense of wonder I haven't felt for a long time. My camera is getting a workout that's for sure.
We get back to our hotel by six after a truly great day, team building at its best. We've got reservations at a fusion Asian tapas place in an hour for dinner and then there's just one more activity tonight….the nightclub!